Cows | Bulls | Heifers | Calves | Horn length | Coloration | Inbreeding | Ranch sites | Brand explanation | Links
---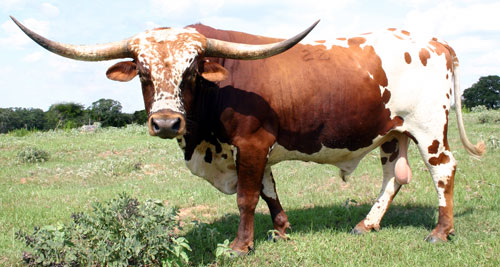 Consigned to the 2006 Butler Breeders Invitational Sale, Lockhart, Texas, September 2nd, 2006
Comanche 22 (61.5" tip-to-tip at four years)
100% Butler
TLBAA #B69310 (DOB: 2/12/02)
(originally named Nester's Ten Mc22)
Co-owned with Travis Peak Ranch and Rocking O Ranch
Comanche's calves show good growth, as in this six-month-old owned by Curtis Ohlendorf: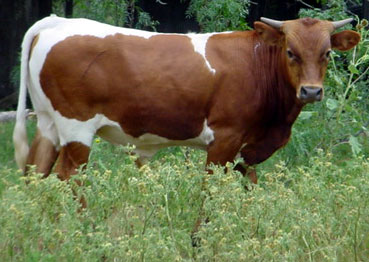 Comanche 22 x CO Pina Colada (DOB: 12/19/05)
Comanche is a pure Butler bull from Michael McLeod's breeding program. His early horn development is excellent, and he is projected to have a tip-to-tip measurement in the mid-60's at maturity (similar to his sire).
Comanche is a descendant of an outstanding line of bulls that have improved in horn length almost every generation, from Bevo to Classic to No Double to VJ Tommie (aka Unlimited) to VJ Nestor (Comanche's sire):
Comanche's color pattern is the classic color-sided phenotype, produced by heterozygosity at the color-sided locus (Cs/cs+), together with the wild-type coloration (E+/E+). This results in the irregular white border along the back, together with the dappled coloration on the face. He shares this basic pattern and coloration with his sire (VJ Nestor), grandsire (Unlimited), great grandsire (No Double), and great-great-great grandsire (Bevo). Only Classic, Comanche's great-great grandsire on his paternal side and great grandsire on his maternal side, deviated from this pattern in this line of excellent bulls; Classic was homozygous for the Cs allele, and so was mostly white. This same basic coloration and pattern can also be seen in another of Comanche's well-known great grandsires, Ten's ComeAlong 360. Comanche's wildtype coloration produces a wide variety of colors in his offspring, as the wildtype alleles produce the greatest range of expression of eumelanin and phaeomelanin (the red and black pigments that produce all the Texas Longhorn colors).
Bob Coffee (Travis Peak Ranch) used Comanche as a herd sire in 2003-2004. We used him in 2004-2005 on our small Butler herd, and Curtis Ohlendorf (Rocking O Ranch) has used him since then. We all have been impressed with Comanche's easy handling and good disposition, and he has produced excellent calves for each of us. They grow quickly and put on good horns and muscle. We now are bringing along a new Butler bull to breed to his offspring, and Bob Coffee is reducing the size of his herd, so we are now offering Comanche for sale at the 2006 Butler Breeders Invitational Sale in Lockhart, Texas, on September 2, 2006.
Comanche's original registered name was Nester's Ten Mc22.
For more information on the genetics of Texas Longhorn coloration, click here.
Cows | Bulls | Heifers | Calves | Horn length | Coloration | Inbreeding | Ranch sites | Brand explanation | Links